Country Hearth LLC....Retail/ Distribution
Our Stove Store
Country Hearth LLC located in the Appalachian Mountains of West Virginia is a distributor of KOZI and OSBURN pellet stoves, wood stoves, and fireplaces. We offer our dealers; parts, delivery, training, and respect! Our goal is to treat you fair, keep you happy, and supply you with quality products.
Our dealerships are geographically controlled. You may call or contact us at any time to see if your location is open or to inquire about our products.
Check out our new online store
RETAIL SALES
Our retail outlet located in Moorefield, West Virginia is always stocked with pellet, wood, and gas stoves and supplies. We have unvented fireplaces on display along with burning models of pellet and wood stoves. You will also find your favorite supplies such as; gloves, kettles, steamers, soot stopper, paint, fireplace screens, stove boards, and log racks.
Janet, who is the store manager, is always eager to share her knowledge of the stoves and products with you, the customer. She will show you which stoves and products will fit your needs, house, and budget. The retail store is open 9am-5pm Monday through Friday. We are open 9am-12pm on Saturday.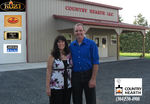 Janet and Joe at their distribution/ retail store in Moorefield, West Virginia
Country Hearth LLC is a proud sponsor of Bear Hill
Bear Hill is not your typical bluegrass band. Many times when we play music we hear people say,"I don't like bluegrass, but I really like you guys!" We like to play music and have fun and take pride in playing the familiar bluegrass and gospel songs that you recognize. Our band has a friendly down-home manner on stage. The audience is involved with the band and the songs throughout the show.

When you come to see Bear Hill perform you will find energetic musicians always in motion around a single microphone. You will be impressed by the strong vocals, harmony, and great songs.
We are happy to have Country Hearth as a sponsor. You will always find the information that you need about the stoves and products offered by Country Hearth at our shows. You can click on the picture or the link below to be redirected to our web site for information about the band and schedules.
Click on our picture and watch us perform (YOUTUBE)************